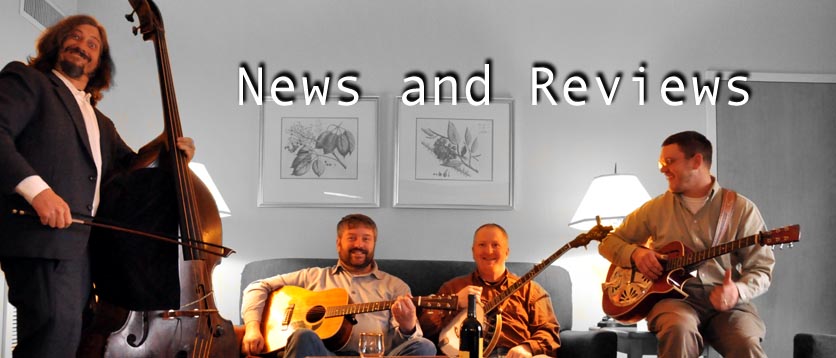 "Runaway Freight is an unlikely name for this quiet, polite, unassuming, free spirited group. I love their attitude and their music. This month they're my favorite band!" ...~ Tom T. Hall ~

"Whenever a group that's new to me requests one of our songs to record i always catch my breath, after all, these songs are the children of our souls and we have to trust they will be well treated.

I'm sure glad we took our chance with Runaway Freight. Their performance is, to say the least, remarkably fulfilling. We feel they are as part of the family. Welcome aboard guys!!!">>> ~ Dixie Hall ~
Feb. 11, 2009

Bluegrass Blog
Posted By John Lawless

Runaway Freight, from College Grove, TN, are set to release their new CD on March 6. Hillbilly Bailout - The Recession Tapes, uses the theme of hard times for the art and liners, the song choices, and the production/marketing approach.
To keep costs down, the 15 tracks were cut live in the studio. They all tracked in one large room and completed the project in just over one day, capturing the first take on most of the songs. [Read more]



May 23, 2008

Al Shusterman - KCBL / Backroads Bluegrass
4623 T St.
Sacramento, CA 95819


CD Review: "Welcome Aboard" and "Fourteen"

"If your tastes run toward traditional bluegrass music then you can stop right now. Runaway Freight is definitely that type of band. They attack each song with fervor and enthusiasm and it really shows. I really enjoyed their song selection. They mixed equal parts of traditional classics with newer material and it made for a really great fit.

You need to listen to these projects several times in order to get the full impact. For a pleasurable experience just put both of these projects on the CD player, close your eyes and enjoy. I played several cuts from each project and received many requests to play them and other songs again. These CD's will be my companions for many weeks to come. "
_________________________________________________________________

Feb. 24, 2008

Sunday Morning Revelations - Welcome Aboard
By Richard Thompson - Bluegrass Blog

Runaway Freight is a Tennesee-based band that has been in existance since December 2003. The band comprises Chris Smith (banjo and vocals), Justin Ford (Dobro™ and vocals), Matt Ford (guitar and dulcimer, vocals) and Sam Morgan (upright bass and vocals). Their usual stomping ground is Alabama, Indiana, Kentucky and Tennessee, where they have performed at the two largest fairs for three years in a row.
[Read More]
_________________________________________________________________

Feb. 08, 2008

Runaway Freight
CD Review 'Welcome Aboard'



By Gregory McGrath (GIPPLAND BLUEGRASS)

Runaway Freight's new album Welcome Aboard conjures up images of trains and carriages running out of control down a railway track but, these boys are in full control.

The band is from Tennessee and have been together since 2003. The group (pictured) comprises Sam Morgan on bass, Justin Ford on dobro, Chris Smith on banjo, and Matt Ford on guitar, and presents some great arrangements on a host of traditional songs and a few original songs from band members on this, their latest release called, Welcome Aboard.

Runaway Freight, have an enormous amount of fun with their music on this CD, and strong guitar work from Matt Ford sets the overall sound for the band, which crosses on occasion from traditional to modern bluegrass.

The group features some original songs; Streets of Gold and Come as You Are that have been written by Chris Smith, while Matt Ford has credits for He's Always There and It Is God.

All members of the band share the lead vocals and contribute to the strong harmonies. This gives the album variety, and provides the band an opportunity to showcase their skills vocally and instrumentally ... (Read the Article on GIPPSLAND BLUEGRASS)
___________________________________________________
06.20.08

Live Interview with Matt Ford on JD Jesse's Bluegrass Express" on WLRV 1380 AM - Friday, June 21 at 3:15pm EST.


JD's Bluegrass Express can also be heard on ARC TV Sudden Link Channel 16

____________________________________________________

Visit our freinds at Mountain Echoes Radio
April 28, 2008 - Runaway Freight makes the front page news ... Click Here to Read!

Call your local bluegrass DJ and ask them to play
"Welcome Aboard" - the title track of the new CD by Runaway Freight ...

Welcome aboard is also featured in Primecuts Volume 92 !

~ 78 stations played the song as of last week ~
_____________________________________

A big thanks to Clyde Scott for providing the best streaming radio
on the Internet and being a young bluegrass band's best friend over the years!.
We miss bluegrassradio.org ... you were the best!
____________________________________________________